Under a Joint Pilot Activity of "Recyclable Waste Collection System and Promotion of Compost" in Dahanesar Shijan Village, home composting activity is being implemented in a household. A household was selected as a model house for the home composting activity. Mr. Higashinakagawa, waste management expert of JICA Expert Team, explained the principal of composting process to a housewife in the household. Situation of fermentation process, implemented by a housewife, has periodically been monitored so far. First fermentation was successfully implemented in this initial stage without bad smell or insect generation and decomposes food waste including peel of fruit, leaf, rice, etc. In the next stage, chemical analysis of compost will be implemented to identify the quality of compost product after the necessary maturation period.
For compost production, it is temperature and moisture controls as well as to keep aerobic condition. In home composting, it is important to utilize material which is locally obtained, to implement the activity sustainably in the target area. In case of Gilan Province, there are many rice fields which produce the by-product of rice bran. That is suitable material for moisture control as well as nutrition for micro-organism. On the other, low temperature in winter is an issue and it is difficult to keep warm temperature to continue fermentation. As one of simple methods, hot water in plastic bottle could be used to keep warm temperature in the composting bed.
After this trial activity, some workshops or dissemination activities in the village will be implemented between February and March to promote the activity.
Instruction of composting activity by an Iranian expert.
Site visit from Municipality and Rural Management Organization in Teheran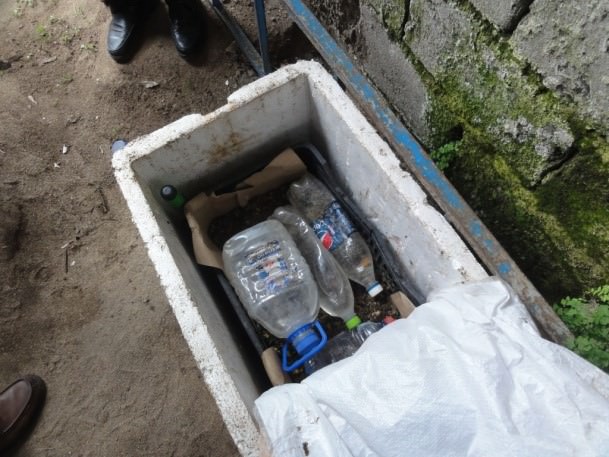 Temperature control by hot water in plastic bottle as simple method
Inputted food waste and fermentation condition